If you're looking to grow your business, you need a video production agency.
You're probably thinking: "But I can make my own videos!" You can, but you shouldn't.
Unless you have experience in the field and an extensive toolkit of high-quality equipment, it's just not going to turn out well. And even if it does? It won't help get your business growing as it should be.
That's because the video is an integral part of modern marketing—and not just for big companies with large budgets. Even small businesses use video to attract new customers and grow their audience. Video is so important that we've even made a list of all the ways it can help your business (and it's pretty long).
You might be asking yourself: "So why should I hire an agency?" Well, let me tell you! We've got years of experience creating incredible videos for our clients, and we can do the same for you. Plus, we have access to all kinds of fancy equipment that most people don't have at home (or even know exists).
We'll take care of everything: script writing, storyboarding location, scouting, casting, filming, editing, and post-production audio.
Introduction
These days, video is a crucial asset for businesses. That's because it helps build a strong brand image while reaching out to potential customers.
According to Hubspot, 59% of executives prefer watching videos rather than reading text, and four times as many consumers would rather watch a video about a product than read about it.

Given this demand, the video production industry in India is on an exponential rise as new video production agencies are popping up every day.
What is a video production agency?
A video production agency is a company that produces videos for businesses. They create video content, using their own equipment and employees to create videos for brands. This can mean anything from a short three-minute commercial to an hour-long documentary on the history of your business or industry.
Video production agencies have become increasingly popular in recent years, as they provide a service that many small companies are unable to offer themselves.
Why do you need a video production agency?
Video is a powerful medium for communicating your message, building trust with your audience, and engaging them.
It's also a great way to build your brand and community!
How to choose the right video production agency in India?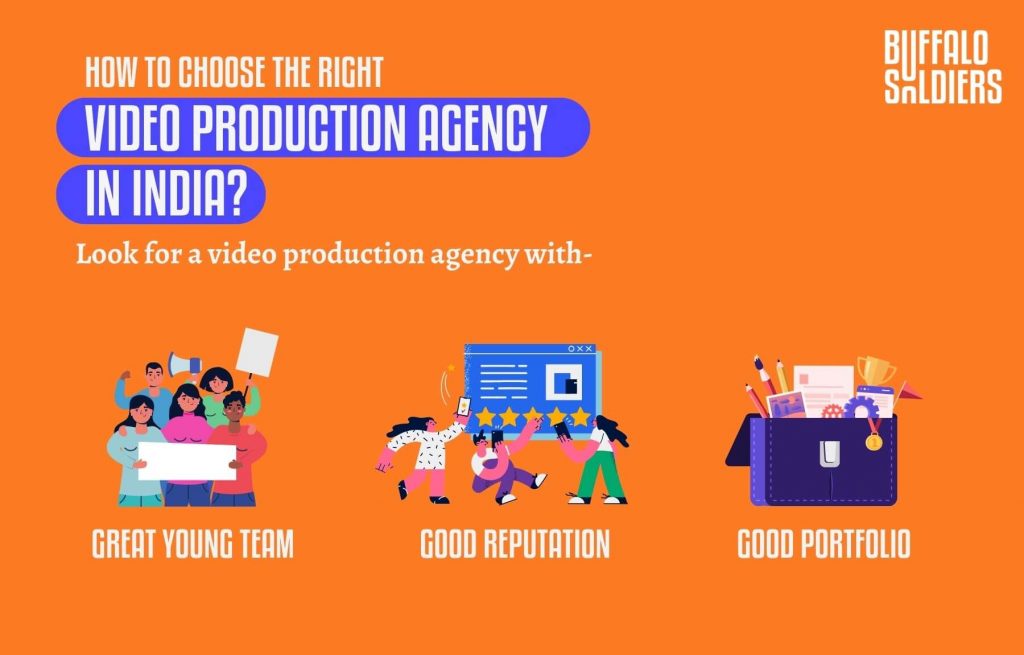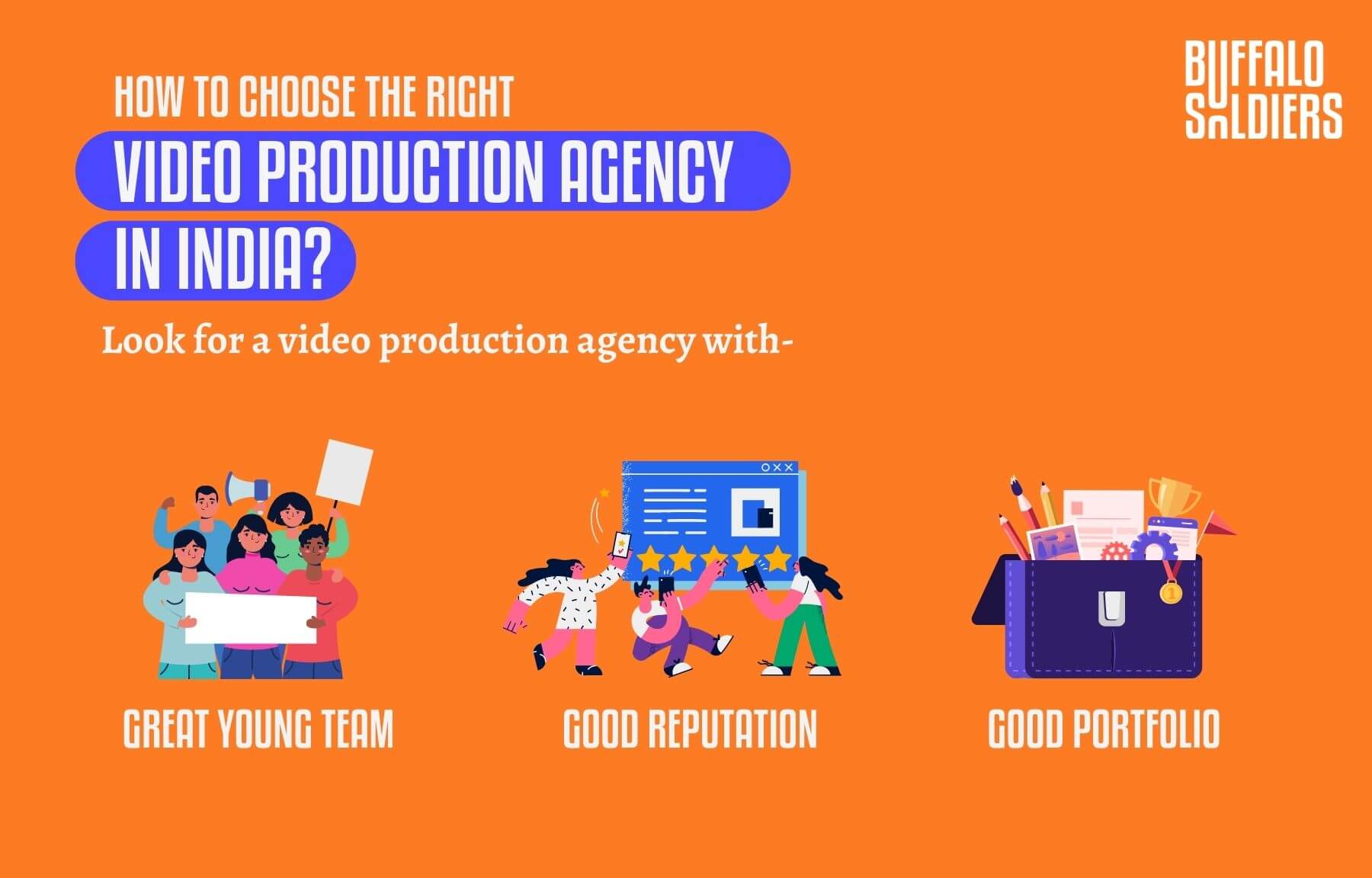 Look for a video production agency with a great young team:
If you have an idea of what kind of video you want, it's essential to hire the right people. It's not enough for them to be good at their job—they need to be able to do what your project requires in terms of style and budget.
Look for a video production agency that has a good reputation:
Before anything else, make sure they're well-known in their field. A good reputation means that other people have worked with them before and were happy with the results. This reduces your risk while making sure they can deliver on time and within budget.

Look for a video production agency that has a good portfolio:
If they can't show off their best work when pitching themselves, then how can you trust them to deliver on yours? Check out their past work by reading reviews online or asking friends who've used them before if there are any concerns about quality control or reliability (and don't hesitate to ask any questions). Remember that just because one person had this experience doesn't mean it'll happen again—but if several reviewers say similar things about multiple projects from different companies over time, then chances are all those warnings hold weight!
Recommended Reading: 5 Benefits Of Video Marketing For Small Businesses
Statistics on Film Production Houses in India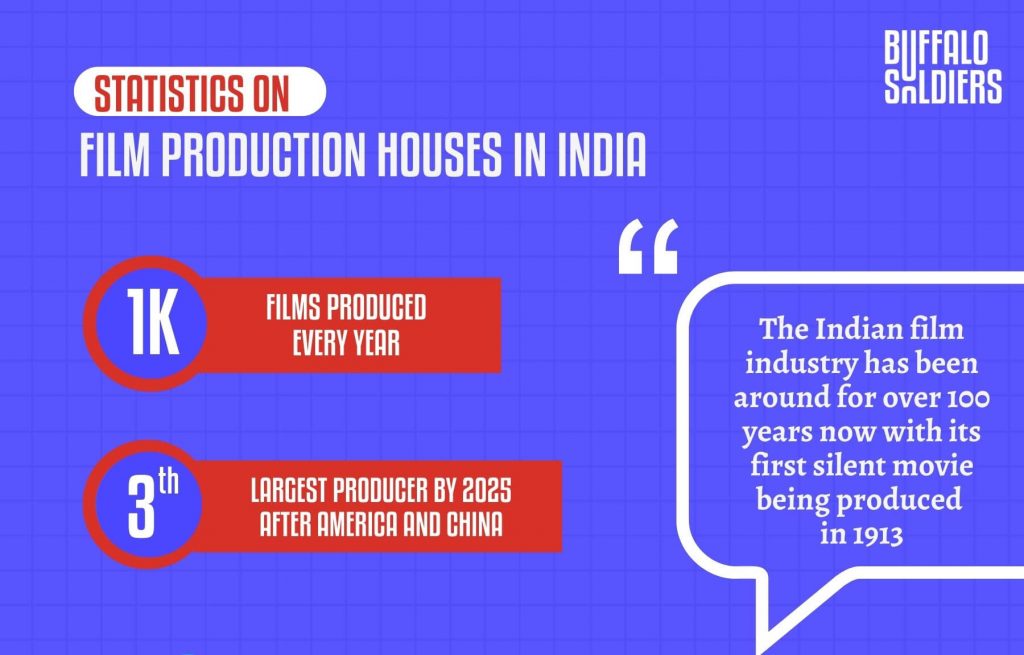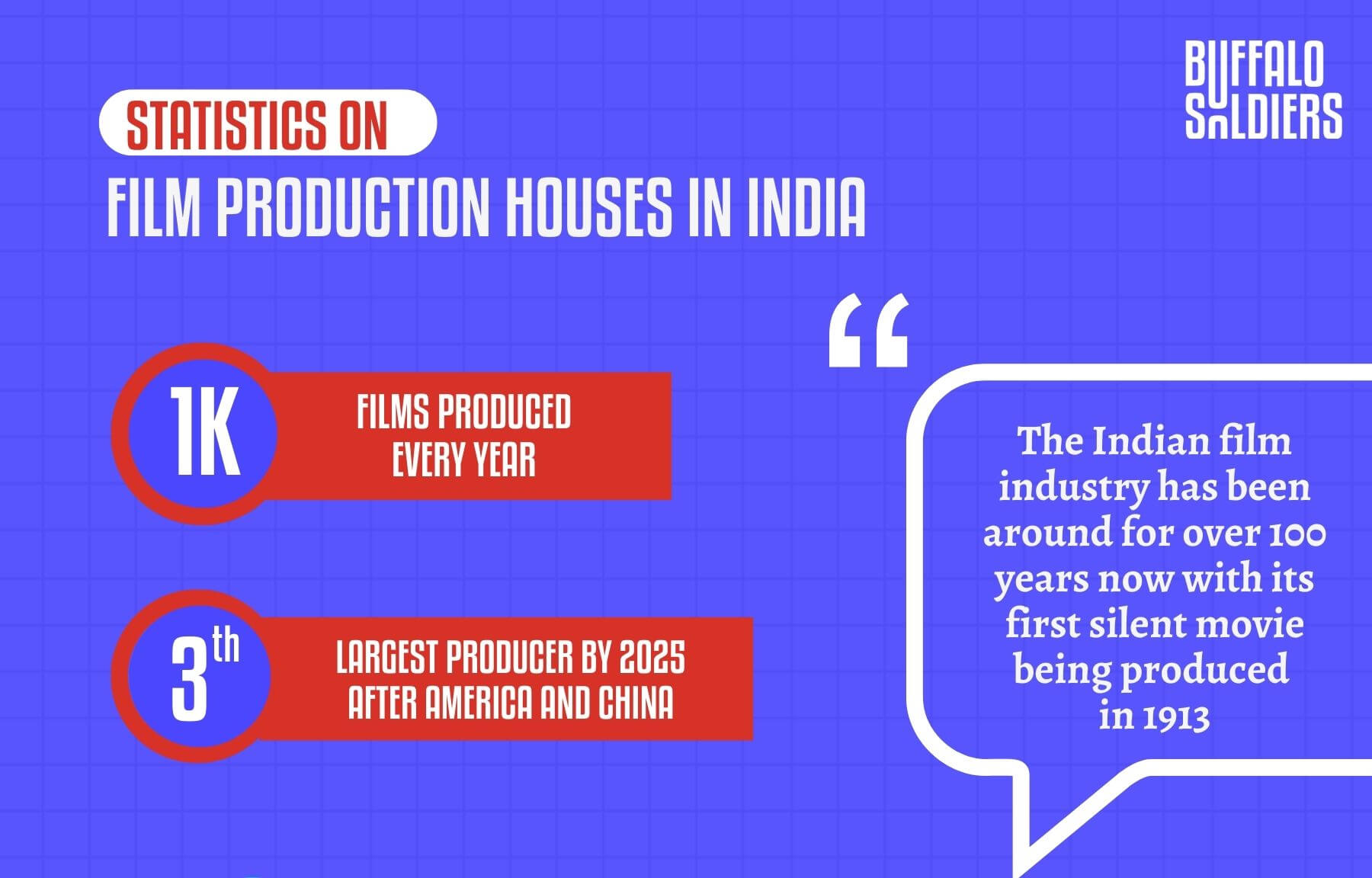 India is one of the biggest film producers in the world, producing more than 1000 films every year. India is currently the second-largest film producer in the world and will soon overtake China as its largest producer by 2020. It is also expected to become the third-largest producer by 2025 after America and China respectively.
The Indian film industry has been around for over 100 years now with its first silent movie being produced in 1913. Since then, it has grown into one of the most prolific creative industries on Earth with diverse genres ranging from action-adventure to romantic comedy to historical drama to science fiction thrillers.
Types of video content you can create for your business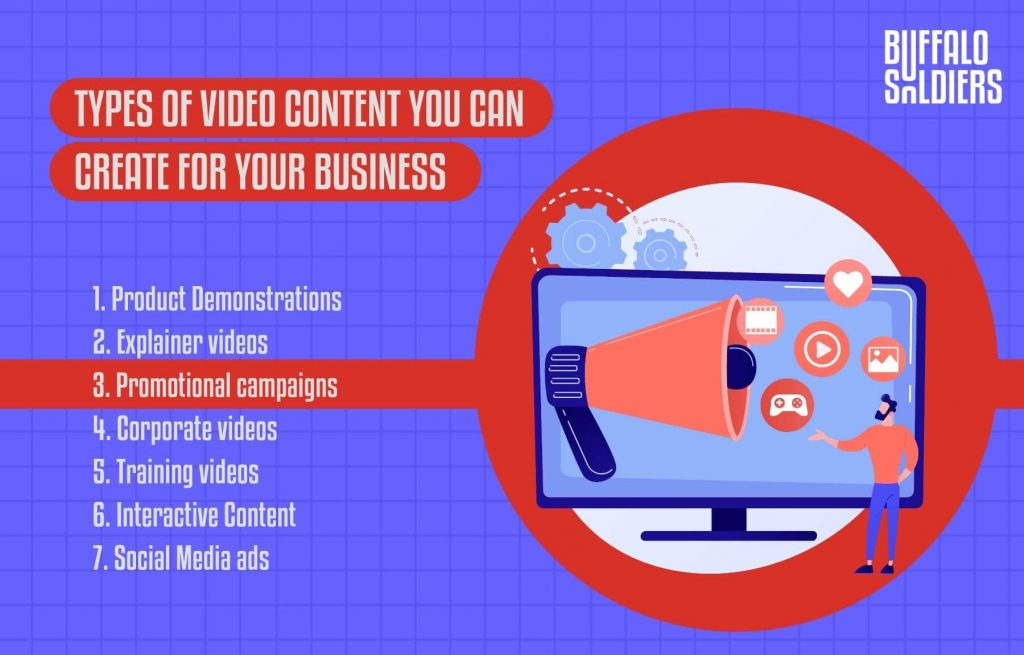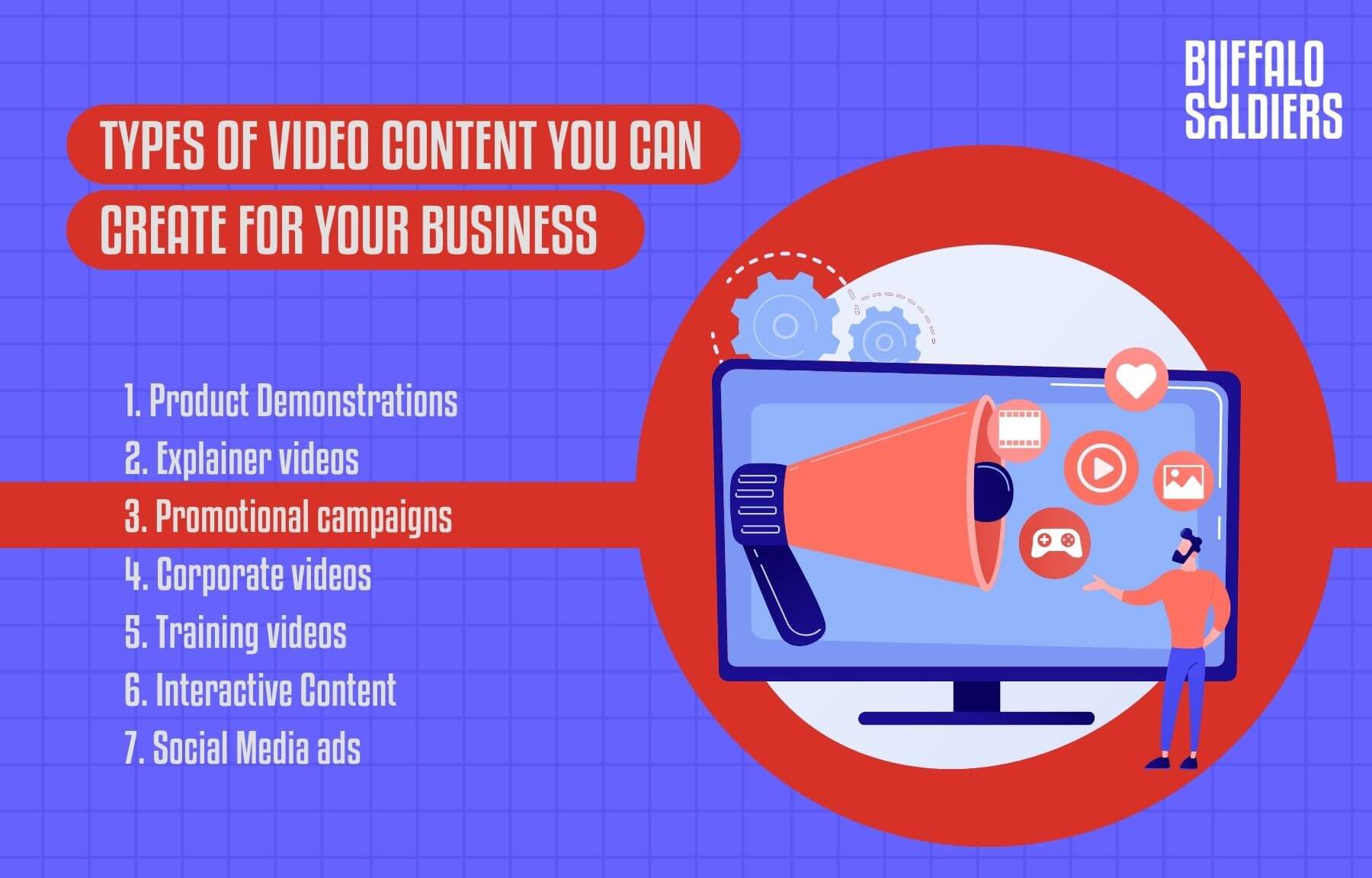 Now that you know what a video production agency does, it's time to talk about the types of content they create. Video is a versatile medium—it can be used for anything from product demonstrations, explainer videos, promotional campaigns, and corporate videos to training videos, interactive content, and social media ads. You can even create music videos or event-related content with the help of an agency or freelancer (we'll get into this later). The most common type of video created by agencies is testimonial-based content—a good example would be your typical "before and after" series in which someone talks about how they struggled before finding a solution with your business' help.
Another thing to remember as you're deciding on your next project is that there are two main categories of video: live-action (or non-animated) and animated (or computer-generated). Live-action refers to real people filmed interacting with each other in front of the camera while animatics typically feature actors performing their lines without actual footage being shot.
As per Cisco reports – In 2022, 82% of global internet traffic will either come from video downloads or video streaming.
Steps in Video Production Process
Video production involves a six-step process: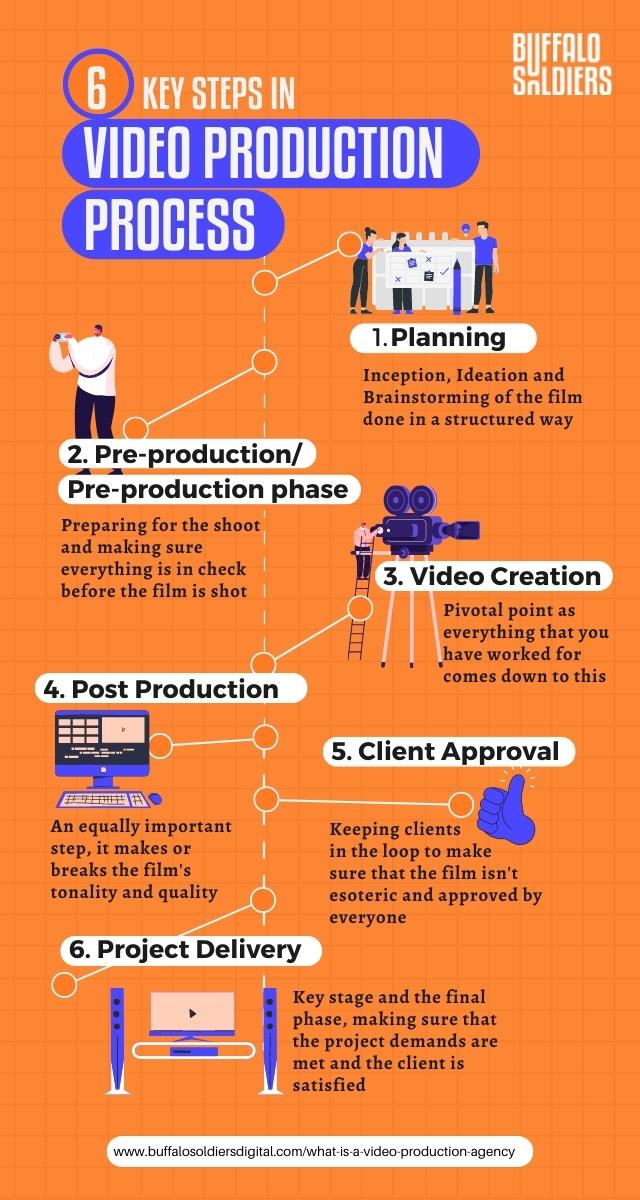 This is the most vital step in any project, as it involves deciding what you want to accomplish and how much time and money you're willing to spend. The planning stage also includes choosing a shooting location, deciding on which actors or models will be involved, and determining other aspects of the video's production team such as its director or editor.
Pre-production (or pre-production phase)
This involves making decisions about how many people will be needed for each part of the shoot—from crew members who operate cameras to stylists who dress actors—as well as organizing props and costumes so they're ready when needed during filming. Other things that can be organized during this stage include script approval by producers/directors; storyboarding for shots; scheduling for background actors if necessary; securing permits for locations where filming will take place (if necessary); hiring extras if needed; confirming insurance coverage from an insurance agent before filming anything dangerous like stunts or firearms training; setting up equipment rentals such as lights; acquiring appropriate music licenses from their respective licensing agencies if desired by creators.
Here is where the real work begins. Everything that we have been preparing for comes down to this. Ideas that have been created, and everything else as well, they're put into action to produce the film. This is the most time taking process as video creation involves shooting scenes, and having multiple takes to make sure that you get exactly what you want. Multiple iterations take place to make sure the film is ready for the next step of the process.
The combination of Video creation and post-production is what separates a film from others. It's in the post-production when the director and editor sit (sometimes they are the same person, ask our team lead Mr. Saurabh Dubey), and they make sure that the film comes out exactly how we wanted – or in some cases better.
The client will once go through the film and share their feedback. If they are involved in the process, the client would be aware of what is being done behind the scenes. This stage is pivotal for the health of the film because if the client makes extensive changes, it would be an arduous task to go through the previous processes again. It's very important to keep the client on the same page to remove a supposed feedback loop.
Work done, client approved, and now it's time for delivery. The best part of the process and the easiest as well. You have to make sure that the film is done in the time duration that was given and also makes sure that the quality matches the client's feedback and requirements. 
Also Read: A Complete Guide to TV Commercial (TVC) or Ad Film Production Process in India
Video is a crucial asset for businesses these days.
It's one of the most effective ways to communicate with customers, educate them, entertain them, and engage them. And when used properly it can also be an excellent tool for building your brand identity and standing out from competitors.
And Therefore…
I hope this article was able to help you gain some insights into the video production agencies in India. In our ever-evolving digital world, we need to make sure that our businesses have a formidable online presence. Videos are one of the best ways to do it, and they can help you build brand awareness as well as increase your sales figures. If you're not already leveraging this channel then now would be the perfect time to get started!
Do you want an agency that can help you grow your business, increase sales, and make more money? Or do you want an agency that can help you keep up with the latest trends in technology? Maybe something more to gain new customers or build relationships with current ones? Whatever your goals are, we can help.
Well, till 2022, you had only Buffalo Soldiers! Now you also have a specialized subsidiary called Eating Potatoes that solves all your video needs. That's what we call a double whammy!