Social Media is a platform that people, businesses, and organizations leverage shamelessly. And they should! But, when does it reach a point of diminishing returns, causing us to adopt alternative strategies? 
Let's look at this problem with a weird but apt metaphor. Imagine going to the sugarcane juice corner and watching that bloody sugarcane get absolutely manhandled by the machine. Every single last bit of the juice the poor cane has gets extracted, and it's rendered useless and mundane. Well – that's a situation that can happen to you and your business if you don't keep up with the social media trends and don't alternate your strategies.
Social media's market size is expected to reach $223.11 Billion in 2022! It would be sacrilegious if you don't employ this platform to formidably position yourself or your business.
To avoid such a predicament, we have come up with a list of 10 social media management tools that would help you stay head ahead of the curve.
10 Social Media Management Tools You Must Use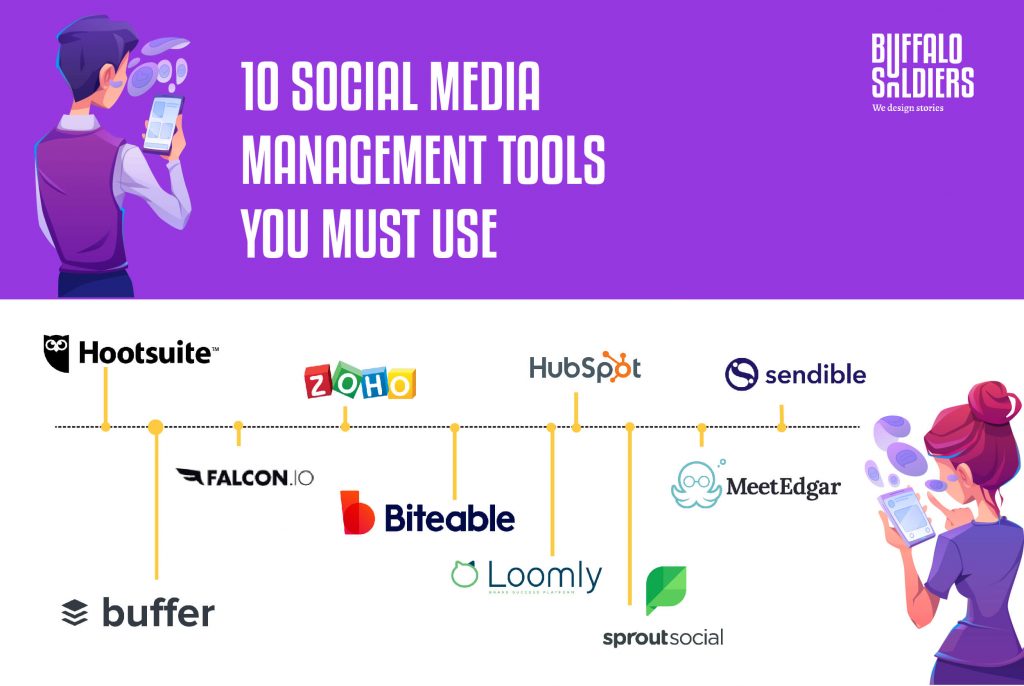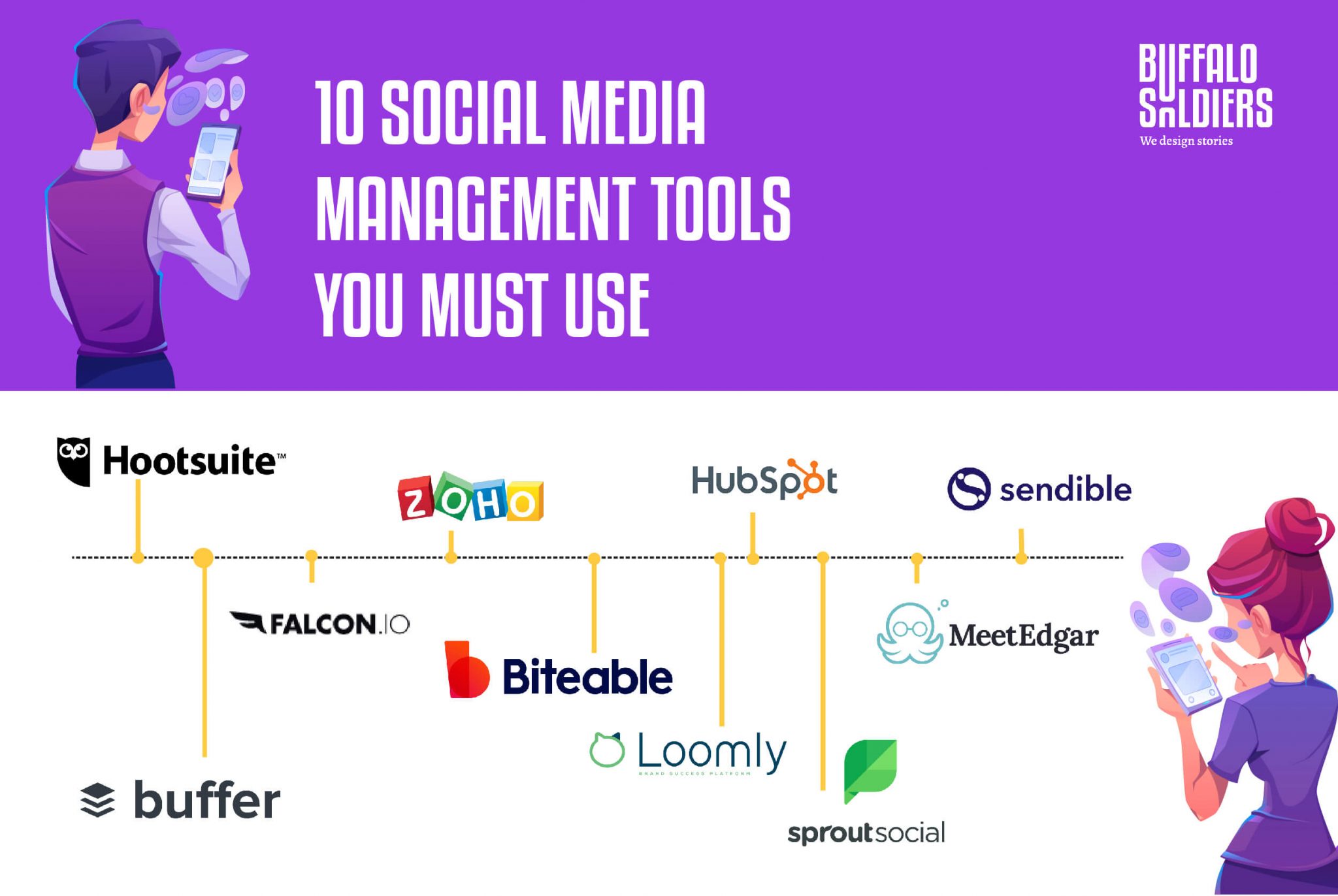 #1. Hootsuite
A tool that brings incredible value to your business as it can manage multiple social media channels at once. The USP of Hootsuite is that you can create the content you want to publish and schedule it in advance. The tool also provides analytics data to show the performance of the content.
Cost:
Professional: $49 per month
Team: $129 per month
Business: $739 per month
#2. Buffer
Similar to Hootsuite, Buffer's primary objective is to manage all your social media accounts – at once. It's a widely accepted fact that Buffer is one of the best budget options for small businesses. 
Cost:
Free plan for one user to access 3 social channels
Team: $5 per month
#3. Biteable
Biteable can smoothly create engaging and instructional short video content to attract your audience to your products and services. This tool comes in handy when creating video content. With an array of videos, music, templates, and footage available, Biteable helps you create studio-quality short and informative videos.
Cost:
Pro: $49 per month
Teams: $249 per month

Also Read: What is Social Media Marketing, and Why is it Important for Your Business?
#4. Zoho
An all-in-one tool that consumers use to manage all the social media aspects of their business. Zoho offers comprehensive social media management software that lets you publish and schedule posts across various platforms, access performance analytics and reports, and has access to Bitly integration & URL shortener. 
Cost:
Standard: $10 per month
Professional: $30 per month
Premium: $40 per month
A free plan with limited functionality is also available at Zoho. 

#5. Sprout Social
Sprout Social is a prominent tool that most social media advertising companies utilize. It's effective for building communities for a brand and managing ongoing conversations. It also provides you with actionable insight and helps you drive real growth for your business.
The tool supports all major social media platforms such as Twitter, Instagram, Meta, LinkedIn, and Pinterest – an excellent all-encompassing choice for social media management.
Cost:
Standard: $89 per month
Professional: $149 per month
Advanced: $249 per month.
#6. Loomly
This tool is extremely useful for large team collaboration. The plans that Loomly offers come with core features such as post preview, audience targeting, automated publishing, analytics, and more.
Cost:
Base: $26 per month (2 users)
Standard: $59 per month (6 users)
Advanced: $129 per month (14 users)
Premium: $269 per month (30 users)
#7. HubSpot
HubSpot is your one-stop shop for all the tools required to simplify inbound marketing. One can easily track leads and conversions with the help of CRM system integration. Furthermore, it helps in SEO by tracking keywords and uplifting site ranking.
Cost:
Starter: $45 per month
Professional: $800 per month
Enterprise: $3,200 per month
Must Check: 5 Tips To Make The Best From HubSpot Social Media Marketing
#8. Sendible
Sendible is a tool specially designed for a social media advertising company. It comes with a customizable and interactive content calendar that you and your team can view to collaborate on all social media posts. It also offers a content suggestion feature, providing us with new ideas for content that can resonate with your brand's audience. 
Cost:
Creator: $29 per month
Traction: $89 per month
Scale: $199 per month
Expansion: $399 per month
#9. Falcon.io
A social media marketing platform, Falcon.io (now known as Brandwatch) provides management solutions that save time by maximizing reach, engagement, and impact among the target audience. The listening capabilities of this tool help in identifying and understanding your brand's positioning in the market and the opportunities for engagement. 
Cost:
Essentials: $108 per month
Custom: To get the pricing of a custom package, you'd have to reach out to their team
#10. MeetEdgar
MeetEdgar stands out from most social media management tools as the automation and scheduling features are fantastic. It also offers continuous posting, which means it will continue posting and automatically curate and reshare relevant posts.
Cost:
Eddie: $29.99 per month or $299 per year
Edgar: $49.99 per month or $499 per year
And Therefore…
"In the digital world blah blah blah" → how many times does one need to repeat themselves before the statement above becomes verbatim? The digital age has been there for a while, let's focus on the now. 
The power that social media has to make or break a brand is incredible. Here's a stat that will truly boggle your mind:
Social media users worldwide have increased by over 10% from 2021 to 2022, with a total social media reach of 4.62 Billion! What are you doing to ensure that your brand stands apart from the crowd? What tools are you using to drive traffic to your website to generate leads?
Don't worry, here's where we come in. We are Buffalo Soldiers, a social media marketing company in India, and have time and again delivered the goods for our clients. What separates us from the rest is that we have found the sweet spot for deploying solutions. We are results-driven in our approach but also care about your brand. 
Reach out to us, Buffalo Soldiers offers a free consultation, and we will help you curate a marketing plan for your brand.