Sumon K Chakrabarti
Co-Founder | CEO
Football fanatic-in-chief. First-time Entrepreneur. Serial Optimist. Orai & Pepper's Dad. Eternally solving problems. Plays: Squash, football, badminton. Brands, ideas, prawns in a hurry. Never satisfied. Once a journalist. Loves the white sand and turquoise waters. Vineyards too. Bob Marley. Snarky Puppy. Arsenal and Barcelona fan (die-hard variety). Chef Extraordinaire.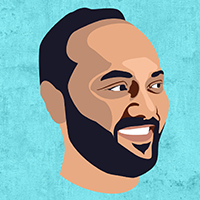 Fun Facts 😆
1001 funky socks hoarded.
20 similar t-shirts found in the cabinet.
3 power-banks stuffed in the bag
Anatomy 💪
30% Tintin
30% Oprah Winfrey
20% Martha Stewart
10 % Captain Haddock
Known Predators 👽
Stupid conversations and boring mofos.
Patience – ain't a virtue worth suffering from.
Texting.
Words Often Used 🗣
Boom boom, shake the room.
Tell me one thing.
You know.
Fuckety F***
Identifying Marks 🆔
Solid T-Shirts or Linen Shirts
The infinity tattoo on arm
A GIF That Describes Him 🔥
What He Thinks
What We Think