Google Ads management services are intended to zero in on your target customers and use strategies that maximize ROI, reduce waste and ensure that your ad budget is directed only toward the most effective keywords and campaigns. Okay, this became a bit too technical a bit too soon. Let's mellow down. 
Hey, let's do a small exercise to jog your memories. Close your eyes. Now open them again so you can continue reading this article. That was our attempt at a joke. Anyway, don't close your eyes but imagine. 
Imagine you are a child again back in your home, your room. Diwali is around the corner, and you just got a scolding to clean your room. So begrudgingly, you pick up the pile of clothes you stashed on that corner chair, going through your cupboards and making space for your strewn-over books. 
But wait- what's that? A keyring you thought you had lost long ago. 
Is that the Rubix cube you fought to buy? Are those your school photos? It's almost been three hours, and your room is probably messier than before. You have cleaned but have found a million different things that have distracted you and caught your attention. 
Now stop imagining. 
We grew up, and so did the situation. 
How? Let me explain.
You are supposed to buy a gift for your friend's birthday, so you go on Google, and search "Gifts to send someone", but once again, an hour has passed, and you have been distracted by the number of choices presented to you. These choices on your Landing page appear because of something called Google shopping ads. 

So What Are Google Shopping Ads?
These ads are a part of Google's search engine and are different from google search ads. While Google ads management services function on keywords, shopping ads have a more complex mechanism behind them. 
These ads allow retailers to advertise their products directly on the search engine. They include information such as product price, title, image, and even reviews. 
When compared to search ads, shopping ads work better because of their visual appeal and ease of use. When you search for a product and are immediately presented with visual options without even opening a site, it makes things easier. Google shopping ads are also more useful in delivering essential information to the customer. 
When used on phones, they can take up the entire mobile screen and therefore be more fruitful for getting the right traffic and attention. 
Where Do Google Shopping Ads Appear?
When searching for something, you must have come across results that pop up in a way similar to this.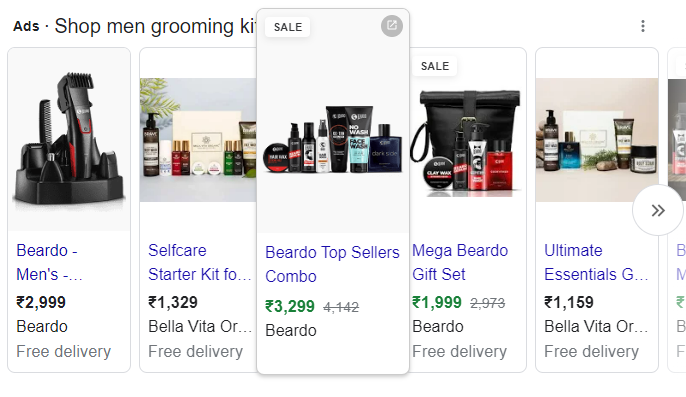 Sometimes these ads may even appear on the right side of your desktop screen. 
Here's how they can look on your mobile,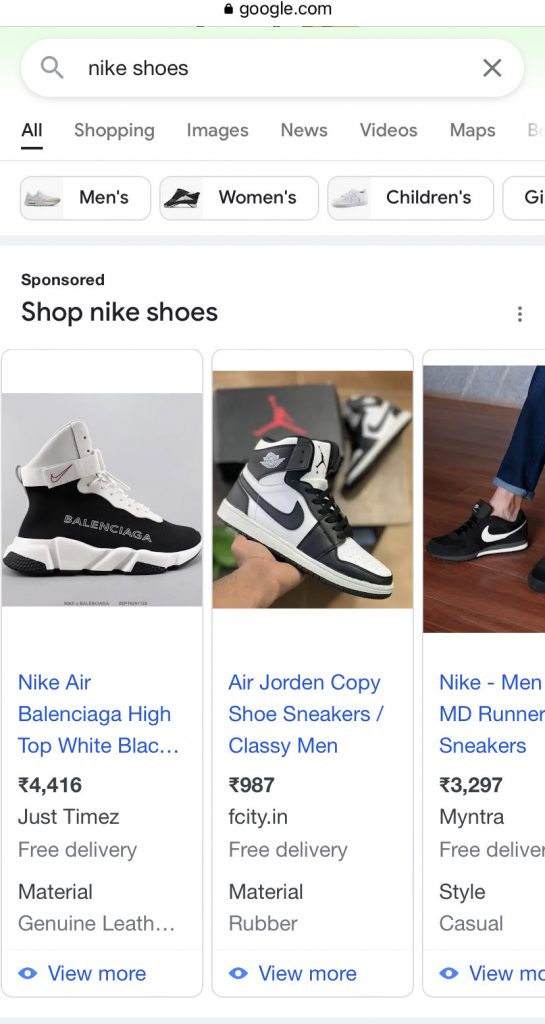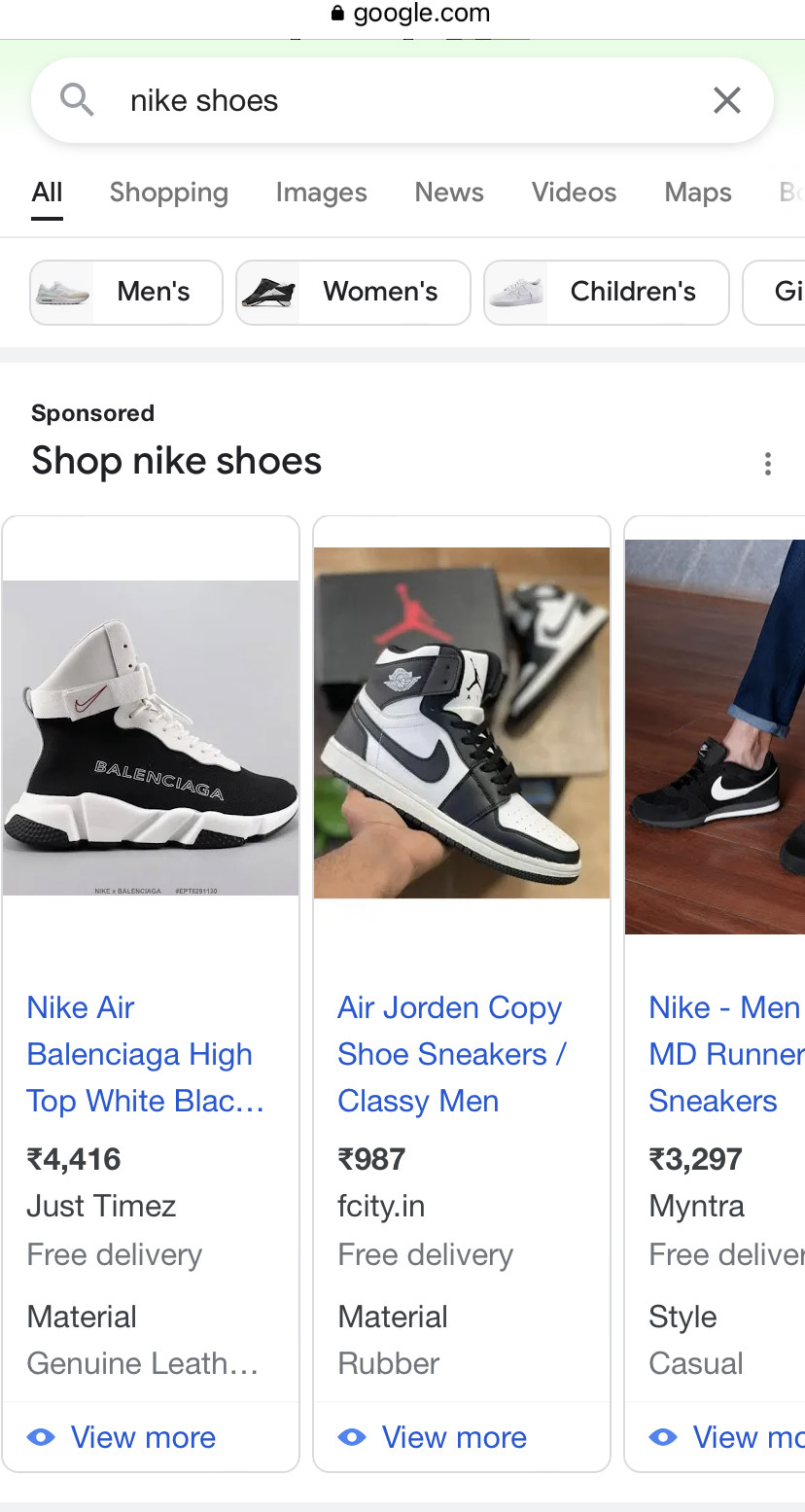 Vs 
Your desktop. 

How Do Google Shopping Ads Help People In The E-Commerce Business?
1. Increased visibility 
Google shopping ads take up more space on the screen than search ads. They are more visually appealing and can appear first in the searches in a carousel for up to twenty ad positions. Compared to search ads, shopping ads also increase the chances of your ad garnering attention. 
Also, when it comes to mobile phones, there are only two search ad positions for an advertiser. Using a shopping ad in this scenario helps you gain an edge over your competitors who might be using search ads.
Once the needed visibility gets created, the traffic you will receive on your ads is from the audience looking to buy the product. Therefore chances of conversion are high.  
2. Get better results for your business 
When you use Google ads management services, the click-through rates you achieve for your products are much higher than those of search ads. 
The higher click-through rate helps lower your ad cost while increasing traffic.
Must Read: Google Ads vs Facebook Ads: Which is Best for Your Business?
3. Automation
Once you create your google merchant account and product feed, Google will automatically create ads for you. The automated process of google directly updates necessary information on its feed about the product. Additionally, the product feed also directly interacts with your online store. It also matches relevant products in your inventory to the relevant keywords people are searching for. 
Be it a large store or small, rest assured – the automation process helps save time and extra effort. 
Automation can also help make setting up campaigns easier while allowing easy tracking as well. 
4. Competition benchmarking 
If you run campaigns using google shopping ads you can compare your ad performance with your competitors. This data can help you improve your campaigns and get an edge over your competitors. It can be highly valuable in keeping your business ahead at all times.
5. Improved SEO
Data points are the key to making your products stand out in organic searches. To develop these data points, you will have to correctly create a product feed that should encapsulate all data about the products in a structured manner. This data gets automatically created when you use shopping ads for your business. 
Recommended Reading: What Is Click-Through Rate (CTR): Definition & How to Improve
Using shopping ads helps you find the right keywords that, in turn, help in increasing results from your SEO. 
And Therefore…
All explanations are kept aside – no tool without proof is good. So here's some proof to show Google ads management services can change the game for any business. 
Shopping ads are capable of driving 76% of search ad spend for the eCommerce industry, meaning that it's getting a large number of clicks and that brands are willing to invest large portions of their ad budgets into this platform. Because of this success rate, Google Shopping spending grew by 41% more than text ads from 2018 to the first few months of 2019. Shopping Ads are currently capable of generating 85.3% of all clicks on Adwords and Google Shopping campaigns combined. 
Now is the part where we come in.
We at Buffalo soldiers are a performance marketing agency in India. We have a dedicated team of professionals who can help your organization achieve newer milestones. With trained professionals from a performance marketing agency, we can help you handle google shopping ads, search ads, and more! 
Book a free consultation today to talk with our Google Ads experts.