Hey, you! You've got an idea, that is ricocheting off the dome of your skull and is pleading to be let out. 2022 has just bid us adieu and if you're looking to make an impact with your business in 2023 one thing is for sure – having an incredible, bombastic idea alone won't do any justice for your business. It needs to be caramelized carefully and adequately for a presentation. A simple PowerPoint Template from 2010 won't cut it anymore, it's time to take things to the next level.
Whilst creating an engaging presentation, we must keep two things in mind: design and purpose. In other words, your slides should be visually appealing, but they should also provide information and concepts in the most user-friendly style. The only way to do this is to use a professionally created PowerPoint template – popping with current design trends via configurable slides.
Presentation Design agencies are on the come up in India. We aren't going down the context of the pandemic and how things had to adapt but rather focusing on how presentation design services can uplift your business.
Must Read: What is Presentation Design & Why Do You Need an Agency for it?
Let's take a look at the top presentation trends –
6 Presentation Design Trends For 2023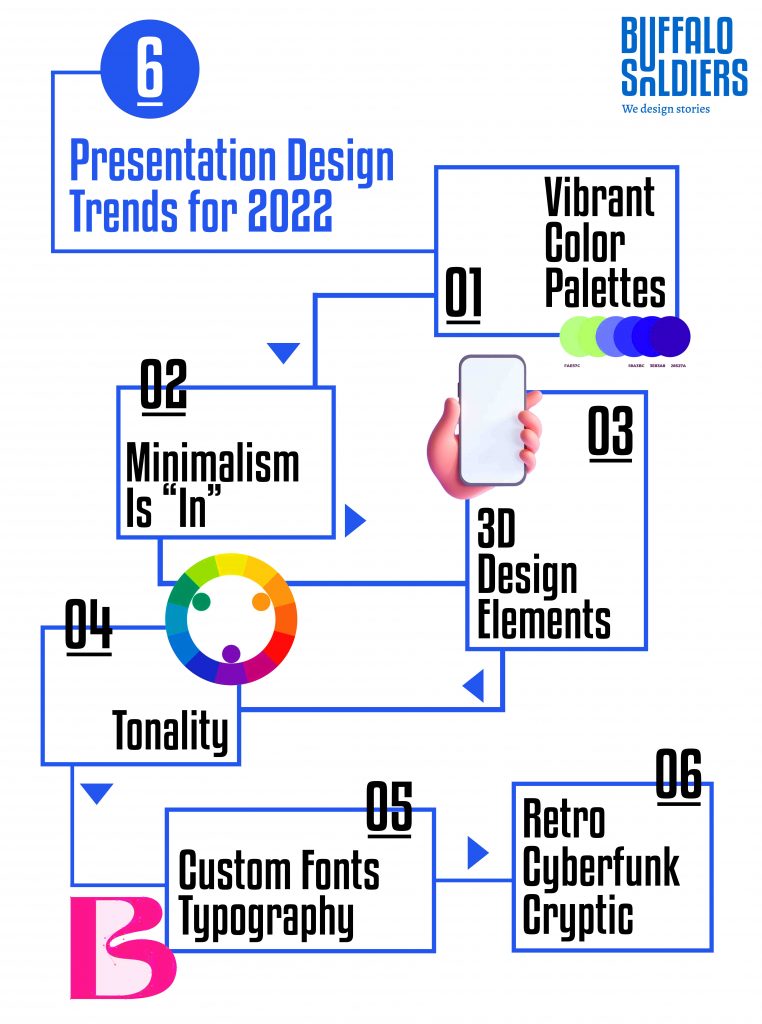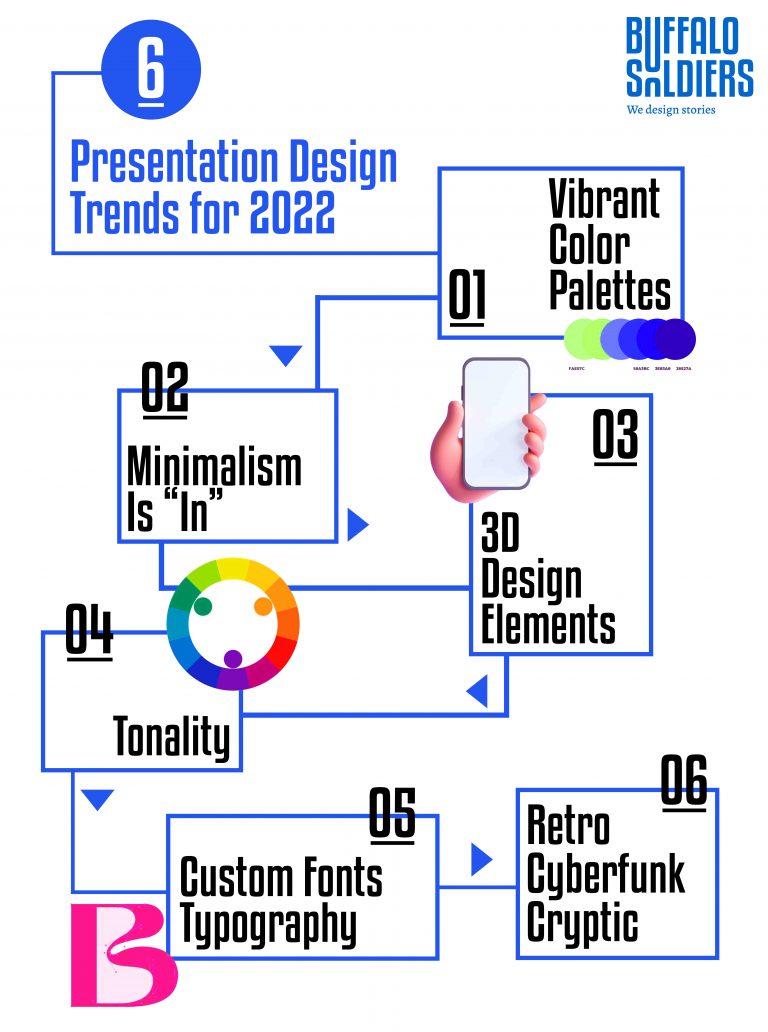 The vibrancy of colors makes or breaks a presentation design's entire look and feel. Having a brand book would help you tremendously here, and if you don't have one, then our suggestion would be to acquire the services of a design agency in India and get on top of this. Your brand colors define you, and in a business presentation, a consistent tonality goes a long way.
Presentation designs in 2023 are bold and clear. It is not about adding new design elements but about making the ones you already have shine out. The more slides you have, the more minimalistic everything becomes. Slide clutter, in other words, is no longer a possibility. Keep in mind that the fundamental goal of your slide deck is to do what your words cannot. Rather than utilizing all text on your slides, use a few simple, compelling images to support what you want to say.

3D features like shadows, animations, or layer effects can be employed to create depth and dimension. Three-dimensional elements, such as the architectural illustration above, can help provide more information for a design or boost aesthetic attractiveness.
The three-dimensional design concept also relates to visual storytelling, which is critical for a presenting project. Consider how you may capture your message or product with a depth of field and shadows.
The tonality you choose for your business presentation is critical for the success and failure of the pitch. Tonality in itself is variable. It depends on the company, who is presenting, and who it is being presented to. If all three factors are taken into due consideration, then the tonality aspect can easily be nailed. Here, presentation design services can come in handy as they would know what are the right steps that a brand needs to take to ensure to produce a compelling story.
Custom Fonts | Typography
Typography with brilliant colors and playful elements is the future! Designers aim to be more expressive while keeping graphic designs functional by employing this font style, which includes shapeless blobs, mind-boggling formations, strange strokes, and misaligned letters. In this style, distinguishing between readable letters and abstract shapes is challenging. This typeface gives projects a particular vibe and a quick makeover.
Bold and inventive type options dominate presentation designs, from shifting shapes and fills to outlines to color fonts. There are no standards for today's online typography, and designers are experimenting with anything.
Interesting Reading: The Importance of PowerPoint Presentation in Today's Digital World
Retro | Cyberfunk | Cryptic
Remember that George Clinton Song? 
𝅘𝅥𝅮 Ow, we want the funk
Give up the funk
Ow, we need the funk 𝅘𝅥𝅮
We are giving a reference to a song from the 1970s to make a profound point (no we aren't). Retro designs, cyberpunkish tonality, and Cryptic elements are funky. They appeal to the masses of younger age.
And Therefore…
Outdated presentation designs aren't helping you. If your PowerPoint deck appears old, the audience may believe your ideas are as well. However, updating your presentation design to reflect any or all of the trends mentioned above, may create excitement around your presentation and ideas.
The potential presentation design trends in 2023 explain another step ahead, although this isn't news on the internet. The future moves swiftly, and digital designers frequently pave the way. What makes these trends feel new is their emphasis on promoting contentment.
Buffalo Soldiers' brilliant presentation design services thrive on staying ahead of evolving trends, relishing the challenge of striking the appropriate balance between established client branding and intriguing new design advancements. Whatever the next big thing is, our ultimate objective is always to create engaging, inspirational presentations that position our customers as industry leaders.
We are a presentation design agency and provide free consultation as well. Reach out to us – maybe we are the missing key that your business requires.