The act of imprinting a strong and positive perception in the minds of customers is called branding. It's a process to enhance the goods and services of an enterprise through the use of qualities such as a logo, design, mission statement, and a consistent theme throughout all marketing communications. Effective branding allows businesses to stand out from the crowd and establish a devoted consumer base.
A distinct brand image may have a big impact on your bottom line by giving you a competitive advantage over others and supporting you in attracting and maintaining customers at a far lower cost.
By organizing your brand image via connections, marketing messages, stories, and visual assets, you have the opportunity to mold the expectations of clients and build a unique bond that transcends beyond the buying-selling relationship.
Global digital advertising spending in 2021 was $442 Billion. Clearly, there would be a trickle-down effect to such mammoth expenditure. For instance, branding companies in India are a dime a dozen. The entire landscape of our country has changed when it comes to this aspect as ideas, inspiration, and creativity have taken precedence.
But what are the key characteristics to keep in mind before finalizing an agency of your choice?
5 Checkpoints To Select The Best Branding Agency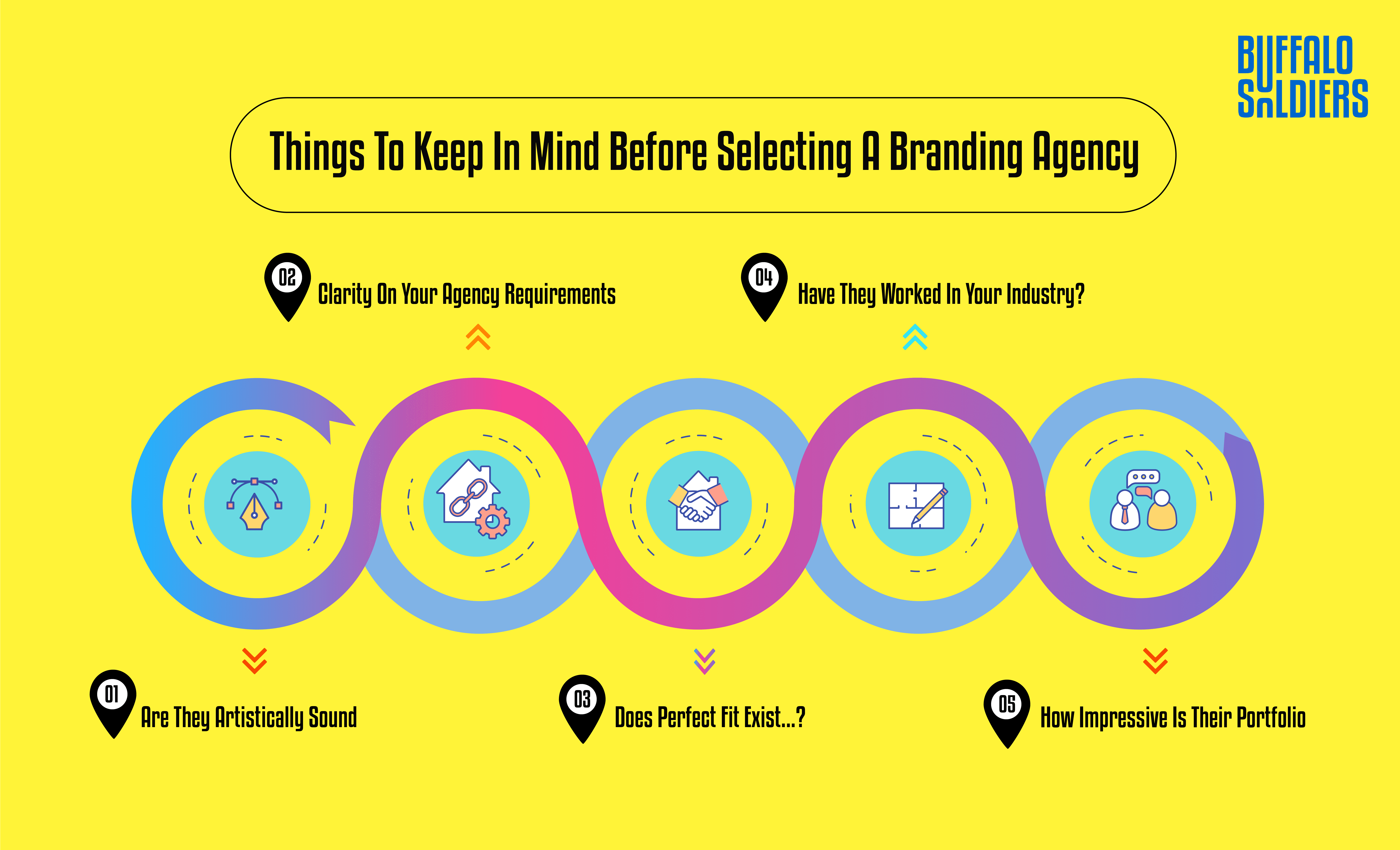 Are They Artistically Sound
Your brand plan should include more than just a simple logo, and the company's visuals must be sharp and distinctive.
All of the visible parts of a brand, such as the color palette, logo and ad designs, website design, typefaces and typography, and the packaging and unpacking experience you give, are considered visual assets. It's a powerful branding tool that works best when all moving parts are uniform and coordinated.
To put it another way, hiring a branding agency with a strong visual sense for your business isn't enough – you should never hand over your company's identity to a designer who can't deliver the style you desire.
Clarity On Your Agency Requirements
What is your requirement in terms of the work that you're doing? What are the key areas you're struggling and how do you want them to be solved? What are your expectations after you acquire the services of branding companies in India?
These are some of the questions one must have an answer to before even searching for an agency.

Do you believe in soulmates? When you look across the room and meet their eyes, does your heart flutter and give you butterflies?
Jokes apart, but the concept of a perfect fit is highly overrated and illogical. There will always be things that are better. You have to ensure that the comprehensive idea of what you want from an agency stands on its own legs.
When a brand grows smoothly, three vital aspects come together: the personality of the organization and its directors, the attitude of the creative team, and an understanding of the target market.
When any of these are in conflict, such as when stakeholders disagree, then there is a lack of understanding of the intended client base, and brands tend to disintegrate quickly.
Have They Worked In Your Industry?
Is the creative agency that you're looking hire sector agnostic? Every sector has its distinct qualities, and the rebranding plan is not omnipresent. When you contact a marketing firm to discuss rebranding.
Examine the agency's track record in your industry. Whether they haven't worked in your field, inquire if they have in a similar domain.
Approach them on your own initiative to learn more about the work they do. Examine how the agency distinguishes itself from others and how effective they are.
How Impressive Is Their Portfolio
A successful branding agency would be keen to display its whole portfolio, including case studies, honors, and actual outcomes from its most prominent campaigns, in public. The bulk of businesses will claim to have excellent, experienced employees. However, taking them at their word is not a good idea. 
Before you select whether or not to trust the agency – look into their prior work history and take a glimpse at what they have done in the past.
And Therefore…
You should collaborate with a branding company that possesses a lot of experience. Experienced agencies understand how to deal with problems that arise throughout their work, as well as how to develop your brand identity. 
To meet that challenge, an exceptional creative agency has an experienced professional staff and inventive, strategic concepts.
Choosing the right agency is thus a key business choice. Therefore, it is always important to proceed with care and undertake extensive study before taking a decision. The items listed above are some of the most crucial factors to consider while making your choice. You need to make an informed decision while selecting your pick.
We are Buffalo Soldiers – a branding agency in India. We have a team of artistic experts who excel at their job and go out of their way to understand what needs to be done for your brand. What separates us is that we ask questions that nobody is asking as we work WITH you.
Our branding services include:
Brand strategy

Logo & identity

Messaging & positioning

Brand architecture

Brand style guide

Voice & tone

Naming & taglines

Launch strategy
There are a lot of agencies willing to put a coat of paint and call it branding. We aren't in that business. Reach out to us – we offer free consultation and will curate a branding plan for you and your brand.