The scorching heat of the summer sun beats down on you as you walk down the busy street. You're on your way to meet a client, hoping to close a deal that could save your struggling business. But as you pass by storefronts and billboards, you realize that you're just a small fish in a big pond. Every business around you seems to be thriving, with flashy websites and social media accounts that attract droves of customers.
As you step into your client's office, your eyes catch a glimpse of their computer screen. Your competitor's website is open there, and your heart sinks as you see the sleek design and glowing testimonials. You know that if you don't act fast, your business will be left behind in the digital age.
But not all is lost. With the right strategies and tools, you too can carve out a space in the crowded online marketplace. It's time to take a deep dive into the world of digital marketing and discover the secrets to maximizing your online presence.
From search engine optimization to social media advertising, we'll guide you through the most effective techniques for boosting your visibility and attracting new customers. We'll share real-life success stories, all with the goal of helping you become the master of your online domain.
So buckle up, because this isn't your average business blog. We're going to take you on a thrilling ride through the twists and turns of the digital world, and by the end, you'll be armed with the knowledge about how to select the best SEO outsourcing company to take your business to the next level.

Let The Numbers Do The Talking
FootTheBall is one of the prime examples of a football news and updates website, that benefited from outsourcing an SEO company. 
The SEO company conducted a comprehensive audit of FootTheBall website and identified technical issues that were hindering its visibility in search results. The company also performed keyword research to identify relevant search terms and create content optimized for those keywords.
As a result of the SEO campaign, FootTheBall website saw a significant increase in organic traffic with 598% of users visiting the website. In fact, within just nine months of working with the SEO firm, had 2764% total pageviews.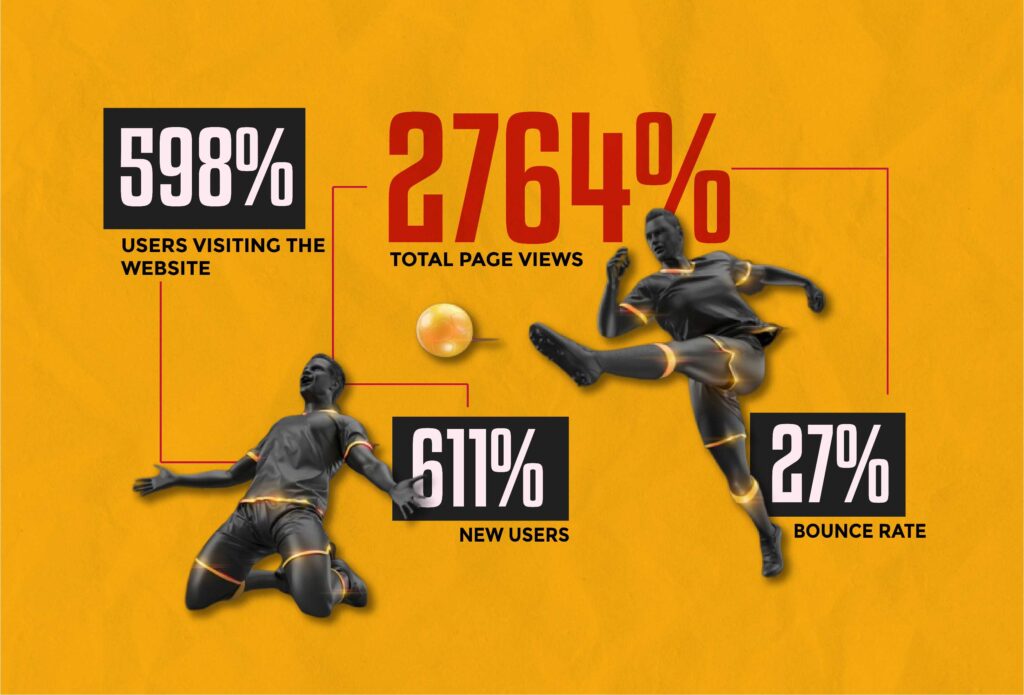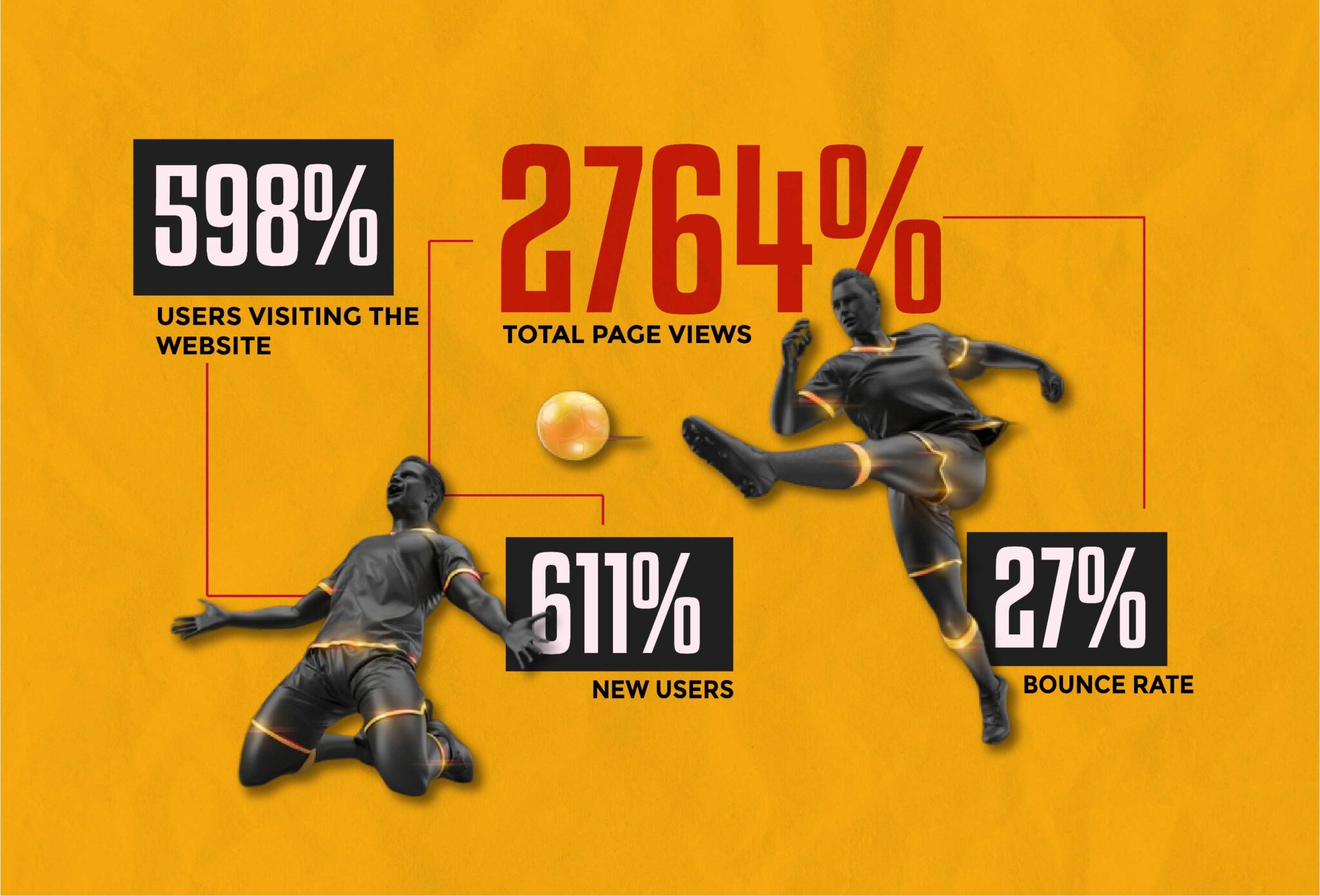 The successful partnership between FootTheBall and the SEO company allowed them to improve its online visibility and attract more viewers to its website, resulting in a 27% decrease in the bounce rate.
It is also known that search engines account for more than 50% of the web traffic in most industries, making them the most significant source of online traffic.
Therefore, this is how if you hire your best-fit SEO services in India your business could also benefit from the potentials it could never reach. 
How To Outsource SEO Agency In India?
Identify The Marketing Services You Want To Outsource
The first step is to decide which SEO services you want to outsource. SEO is a broad field, and outsourcing different aspects of it can save time and money. Some SEO services that you might consider outsourcing include keyword research, on-page optimization, off-page optimization, content creation, and link building, or all of them if you aspire to have bigger things.
Determine Your Organizational Objectives
Before outsourcing an SEO company in India, it's essential to determine your goals and objectives. What do you want to achieve with SEO, and what are your expectations from the SEO agency you're going to work with? You may want to increase traffic, improve rankings, generate leads, or boost sales. Knowing your goals will help you communicate effectively with the SEO agency and ensure that everyone is on the same page.
Look For An SEO Outsourcing Company In India
After identifying the SEO services you require, research and identify the top SEO services in India in India that offer those services. Check out their portfolio, read reviews, and see their case studies. Determine whether they have experience working with companies in your industry or niche. Shortlist a few agencies that meet your requirements.
Discuss Your Goals With The Company 
Before hiring an SEO agency, it's essential to discuss your plan with them. Share your goals, expectations, and requirements. Ensure that they understand your business, target audience, and market niche. Discuss the timeline, budget, and deliverables. Ask questions and clarify any doubts you have. Confirm everything in writing.
Ensure That You Monitor The Progress Of The Campaign
Once you've hired an SEO outsourcing company in India, it's crucial to track their progress regularly. Ensure that they are providing regular updates and reports on the work they're doing. Monitor your website's rankings, traffic, and conversions. If you're not happy with the results or want to make changes to the strategy, communicate with the agency and give your feedback. Ensure that you have a voice in your campaign and that your concerns are being addressed.
And Therefore…
Now, imagine you're a sailor, navigating a vast sea of information, hoping to reach the shore of your desired destination – a high ranking on search engines. But, just like the unpredictable currents and stormy weather of the ocean, the world of SEO is ever-changing, complex, and challenging to navigate alone.
That's where Buffalo Soldiers, an SEO outsourcing company in India come in – we're like your trusty shipmates, equipped with the latest tools, techniques, and knowledge to help you chart a course toward your goals. With our expert guidance and tailored strategies, we'll steer you towards smoother waters, ensuring that you're always on track and heading towards success.
But we don't just help you get there – we'll also help you thrive on the way. Think of us as your very own crew of enthusiastic marketers, working tirelessly to raise your brand's flag high and proud. With our comprehensive services, including content optimization, link building, and keyword research, we'll help you stand out in a sea of competitors, attracting the attention of your target audience and turning them into loyal customers.
Therefore, if you want to set sail towards SEO success, don't go it alone – hire Buffalo Soldiers, the ultimate full-service advertising agency, to guide you to new horizons and beyond!
So, here's to finding the best SEO outsourcing company, building a strong online presence, and achieving your business goals in the digital age. Happy outsourcing!